On Eve's Bayou and Creative Freedom
A Cinematic Welcome to my Newsletter
Hello everyone! Welcome to my first newsletter! After many stops and starts, I have decided to finally launch. I want this to be a space where I can experiment with writing in all forms.  I plan to write often and about many things!! For this first post, I wrote and reflected on the magical film Eve's Bayou. This newsletter includes an essay on the film, an interview with Kahari Blue, and a set of related recommendations.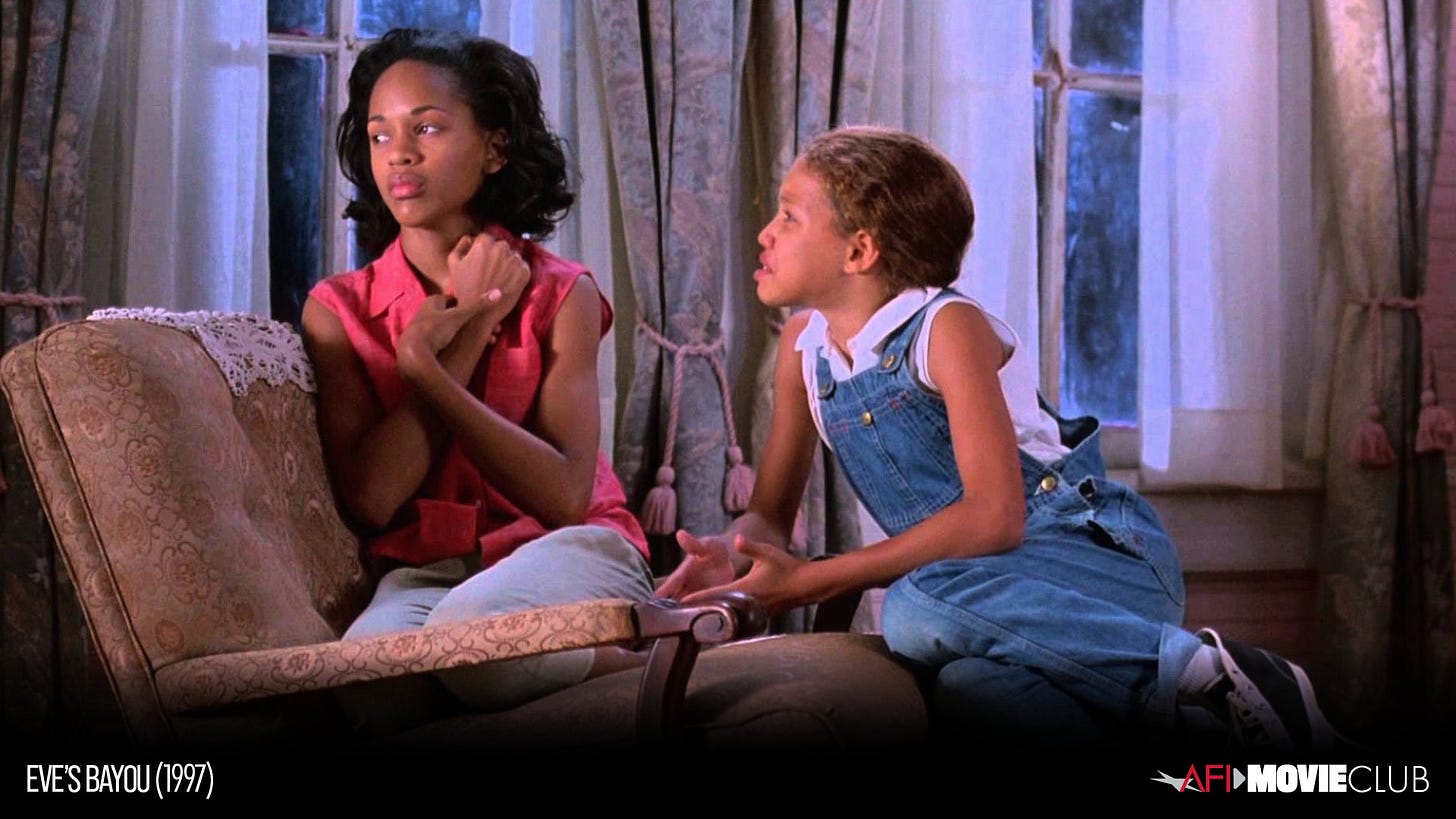 Memory is a selection of images, some elusive, others printed indelibly on the brain.
- Eve's Bayou 
Earlier this month, I encouraged friends to watch Kasi Lemmons' 1997 masterwork Eve's Bayou. This mesmerizing film follows two sisters as they come of age during a Louisiana summer. It explores memory, trauma, privilege, and grief through haunting melodrama and subtle magic realism. At its center is a dazzling, star-making performance by Jurnee Smollett as the eponymous Eve. Smollett fills the movie with dynamic wit, vibrant humor, and gut-wrenching emotional resonance. She is given incredible support by the luminous Lynn Whitfield, the quietly menacing Samuel L. Jackson, the heartbreaking Meagan Good, the utterly beguiling Debbi Morgan, and the legendary Diahann Carroll. The film moves with such sensuality, mystery, and splendor, that it's nearly impossible not to get immersed. When I first finished this film, I could not shake it for weeks. The characters took hold of my imagination and images from the film remained burned in my brain. With every rewatch I have learned more, felt more, and gained more. And thus I have taken every opportunity I have gotten to recommend the film to others. 
When Eve's Bayou was first released, it was heralded by many critics as a stunning achievement.  Despite this praise, the film was mostly ignored by the largely white Hollywood mainstream and by all major awards bodies. Throughout the years, many have returned to the film in awe of the film's breathtaking storytelling, devastating performances, haunting score, and gorgeous visuals. Its depiction of a Southern Black family has undoubtedly served as inspiration for numerous works including Beyonce's Lemonade, Jordan Peele's Get Out, and so many more.
Many of the film's artists remain at the center of American culture.The film's stars have continued to build incredible careers (including Smollett who recently stunned audiences with her searing work on Lovecraft Country). And Lemmons has continued to turn out interesting and thought-provoking films, from Harriet to The Caveman's Valentine. Yet through all of this, Eve's Bayou remains undervalued, under appreciated, and under recognized by so much of the general public. These are just a few reasons why I decided to recommend this film. 
As I continue to think about Eve's Bayou, the word I keep circling back to in my head is "artistic freedom." What happens when artists of color are given the freedom to truly dream and imagine without considering white spectatorship? And freedom to bypass genre and play with tone. And the freedom the create something that's goals go beyond descriptive representation.  
Kasi Lemmons set out to make a movie about two Black sisters awakening to the thorny world around them, and she built it on her own terms. She crafted a story that didn't focus overtly on identity yet still grapples with race, class, and gender more imaginatively and profoundly than most films do. And she wrote dynamic, complex, and poetic characters, whose rich internal lives transcend easy stereotyping. In short, Eve's Bayou is a representation of what is possible when artists of color are actually allowed to rigorously explore their own creativity instead of serving the whims of others' values. And for that reason, I will continue to return to the film for inspiration. 
Recently, I invited my friend Kahari Blue to share his feelings about the film. Eve's Bayou is a work that warrants reflection and it was a joy to read Kahari's thoughts: 
How did you first come to watch Eve's Bayou?
I was late to the game! I watched it during quarantine by Rishi's recommendation. He knows my taste: I love all things Blackity Black and also love complex, theatrical storytelling that transcends simple realism. So, this was a slam dunk recommendation that he'd been bothering me about for like a year.
What was your experience after first watching the movie?
Tonally, it is the type of piece that sticks with you. I fell deep into it because of the ambiguity and mysticism of it all. You're never quite certain what's real and what's imagined, but the thrill of it all is that the truth lies somewhere in between. I started the movie while also handling business on my laptop, but very quickly disconnected digitally so I could really experience the characters' journeys. It wasn't something I could effectively half-watch. Too many layers and entanglements that I was seeking to understand.
What themes and ideas resonated with you?
I love stories that center children in a serious way. They are sponges for what they see and what they feel, which makes them incredibly compelling on screen when you are allowed to enter their worlds. They're also the most vulnerable in our society as adults have the power to control, deceive, and harm them. The film explores all of these dynamics - you love the children and appreciate how they experience life but are heartbroken when they are continually traumatized. Jurnee Smollett and Meagan Good did that - really vivid performances.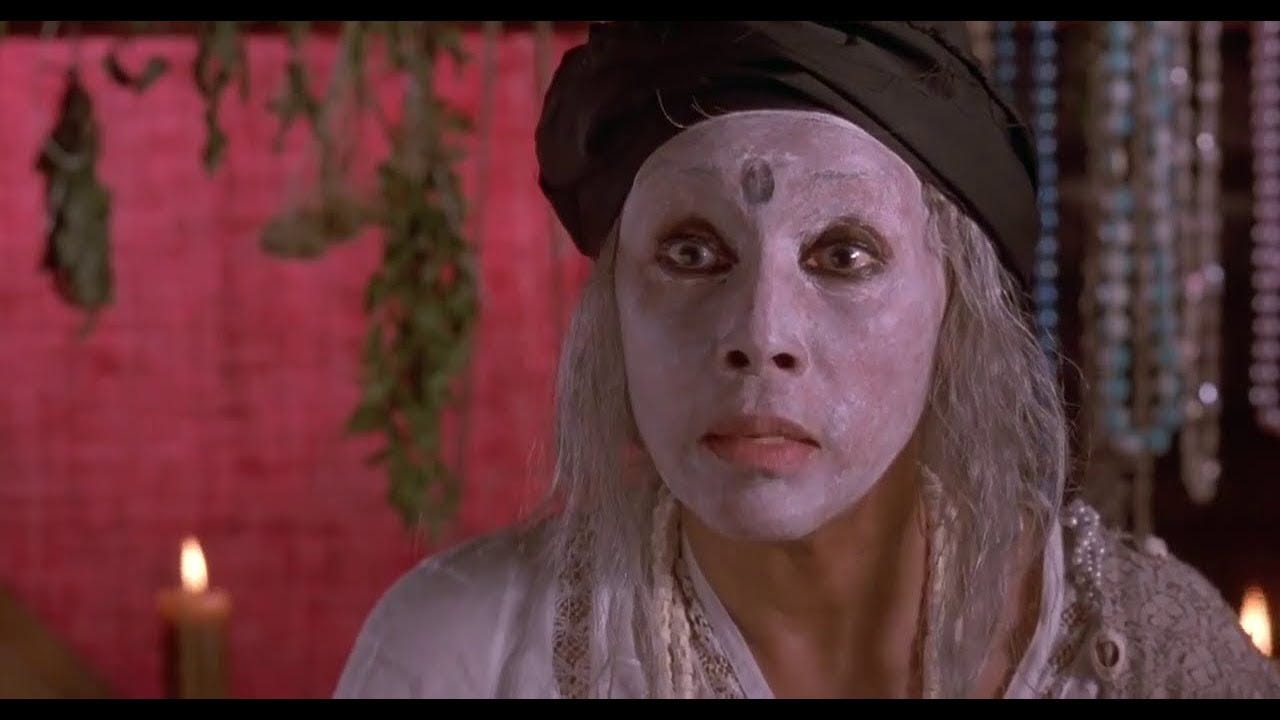 What are some images from the movie that remain burned in your brain?
The Fortune Teller at the carnival. The image of her encapsulates the overall feeling that sticks with me: finding truth between what's tangibly real and what's possible. The image itself feels psychic, with the contrast of the white mask and mystic colors in the background.
The house. Big Southern houses are so architecturally layered and lavish, but also give off this feeling of violence as they're reminiscent of American chattel enslavement. The movies' events take place in a variety of spacious, highly decorated/stylized rooms, spaces where relationships of concurrent love and abuse entangle in a way that wouldn't be able to happen in a small house where there's less space for secrets and entanglement. It feels like the beauty of the house is the love of the family, and the size and complexity of the house holds ancestral violence.
What makes the movie work for you?
It's a perfect piece for its medium because film tells stories through images and visual worlds colliding with human relationships. The performances are strong across the board. In addition to the children, Debbi Morgan (s/o Nona McCall in Love & Basketball) and Samuel L Jackson (s/o every movie ever) are standouts.
Where do you place Eve's Bayou in the grand scheme of all the things you consume?
I cherish it alongside other favorite Black films. I love Black family films. I've watched dramedies like Jumping the Broom, This Christmas, Johnson Family Vacation, and Welcome Home Roscoe Jenkins more times than most of y'all have watched any movie because I find great fun in watching the unique humor and drama that unfolds when Black families are centered. I also love Black films that are masterfully and artfully directed - the way Spike Lee's Do the Right Thing and Barry Jenkins's Moonlight feel like era-defining masterworks in Black filmmaking. Eve's Bayou is part of that posse, and it makes me realize that the Jordan Peele's and Lena Waithe's of the world have ground that they are standing on. Black filmmakers have long been exploring interesting forms and creating new visual and performative aesthetics. As much as I love the Tyler Perry dramedy style, I'm grateful that other types of Black film are in the mainstream now. Eve's Bayou didn't get the acclaim it deserved when it came out, and I'm happy there are artists and cultural critics like Rishi that are uplifting its legacy.
Are there any other films, books, albums, or other pieces of art that you feel serve as a good companion piece to Eve's Bayou?
In general, the piece is pointedly reminiscent of Black avant-garde theater of both the old and new age. Major Adrienne Kennedy (Funnyhouse of a Negro) and Amiri Baraka ( The Dutchman) vibes, but also major Branden Jacobs-Jenkins (Appropriate) and Jackie Sibblies Drury (Fairview) vibes.. 
Thank you so much for your thoughts, Kahari. I will now end this newsletter with some related recommendations.
If you liked Eve's Bayou, you will love…..
Films:
Spike Lee's Crooklyn
Mira Nair's Monsoon Wedding
Julia Hart's Fast Color
Jordan Peele's Us
Television:
Watchmen
Queen Sugar
Lovecraft Country
P Valley 
Theater:
Funnyhouse of a Negro by Adrienne Kennedy 
Fefu and her Friends by Maria Irene Forñes
A Streetcar Named Desire by Tennessee Williams 
Caroline or Change by Jeanine Tesori and Tony Kushner
Appropriate by Brandon Jacob Jenkins
Head of Passes by Tarell Alvin McCraney
Fairview by Jacqueline Sibblies Drury
Literature:
Passing by Nella Larsen
The Bluest Eye by Toni Morrison
Beloved by Toni Morrison 
What Happens When a Man Falls from the Sky by Lesley Nneka Arimah
Music: 
Lemonade by Beyoncé
Chamber Music Society by Esperanza Spalding
A Seat at the Table by Solange